Lou Turner
Songs for John Venn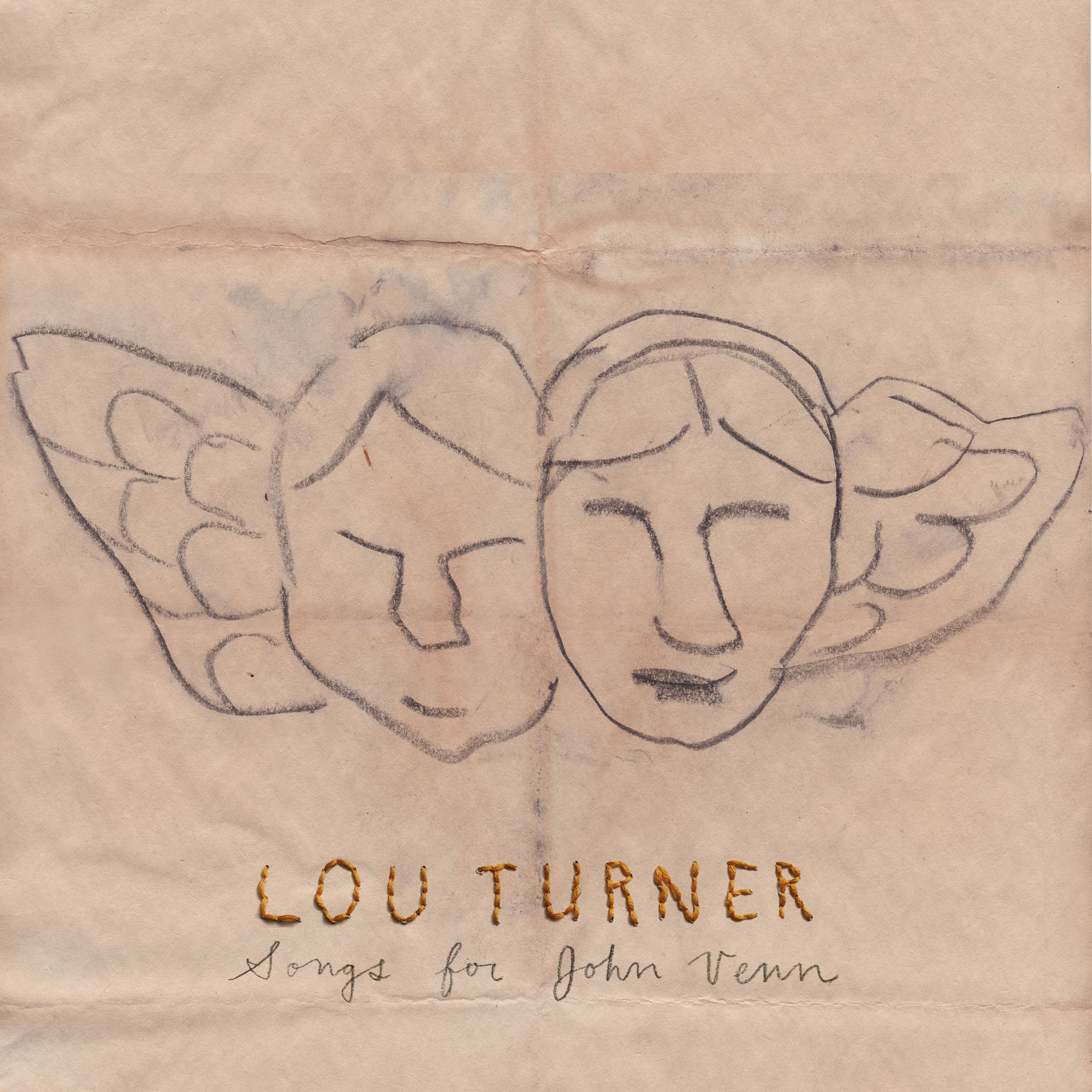 In the prose poem she reads over the hymn "Will the Circle Be Unbroken," Lou Turner (Styrofoam Winos) confides to painter and musician Peggy Snow of Nashville's resident weirdo folk collective, The Cherry Blossoms, "I am always thinking of Venn Diagrams." The visual of overlapping circles weaves across Turner's brilliant sophomore album, Songs for John Venn, in the relationships between the spiritually transcendent and secular mundane, the solitary practice of songwriting and the communal experience of music making, traditional melodic song forms and experimental improvisation, and in two eggs frying in a skillet. Though rooted in lo-fi sensibilities, Songs for John Venn is clean and bright and warm, with a loose yet intentional communal folk rock backing band composed of members of Styrofoam Winos and other Nashville musicians, guests Ziona Riley (vocals on "Widening Venn Diagram"), Dan Melchior (guitar on "Measuring Tape," album art), and Turner herself, who contributes guitar, percussion, mandolin, bass, and the most transcendent flute. Turner's voice matches her songwriting—generous and inviting, even sweet at times—think Ruth Garbus, Dory Previn, or Bridget St. John (whose Songs for a Gentle Man inspired this album's name). But there's a poetic wryness too, sometimes with a spoken delivery at the end of phrases, reminiscent of Dave Berman or Bill Callahan or Patti Smith.
Lou Turner (aka Lauren Turner) grew up in Texas, playing music in school and at church. She remembers hearing her mother harmonizing along with everything—from commercials, to songs on the radio, to religious hymns. Her listening quickly expanded in high school and college from singer-songwriters like Dylan and Van Zandt to folk and jazz traditions from around the world. She says, "The spirituality I felt in music as a child is still there, but is far more mysterious and boundless, and simultaneously more grounded and rooted to contexts and histories. Spiritual jazz (specifically Alice Coltrane's Journey in Satchidananda) has become hugely important to me for this reason." Eventually landing in Nashville, Turner fell in with the underground indie/experimental music scene, in part through Chris Davis' (The Cherry Blossoms) FMRL presenting series, and in 2018, she started deejaying at Nashville's freeform radio station with her program Shout, Sister Shout!, highlightingmusic by under-represented women throughout time and space. As a solo artist and with her band Styrofoam Winos, Turner has opened for the likes of Simon Joyner (who offered a blurb for the record), Kath Bloom, Xylouris White, Josephine Foster, and many others.
"Lou Turner is a breath of fresh air, writing songs which sound like only she sounds. She evokes breezy 70's am radio confessionals, traditional folk and country worship, Laurel Canyon singer-songwriter meditations and DIY home-taper zeal and distills it all into her own song cycle." -Simon Joyner
Songs for John Venn was written during 2017-19, a period in which Turner began her day job in a library and became further inspired by libraries as creative, communal spaces "where we each have a little space carved out for ourselves and all of our particular interpretations can coexist and breathe together." She researched John Venn, credited with creating the diagram in classification, and discovered that he too had grown up in a religious household and served as a priest before deciding to become a mathematician. Feeling a kinship, the symbol became an anchor for her work during this time. She says, "the theme exists on this record in form as well as content, and the backing artists make up the form of my Venn diagram."
"Two Tributaries," with its Michael Hurley-esque guitar line mimicking the vocal melody, is a love letter to friendships that fall out of touch but remain connected in mysterious ways over time. There's more Hurley inspiration in the lyrical humor and food content too. "King Edward Ave" is about Lauren's Papaw who was a cousin of Little Jimmy Dickens, and named his street in Baytown, TX after himself. She says, "The song is a way for me to hold my memories not just of him, but of that house he shared with my Mamaw, which was humble but radically open to their community and family. I wanted this song to feel as simple and friendly as possible, like a Dickens' song might."
"Flickering Protagonist" is a hinging-point, a microcosm of what the album deals with both lyrically and sonically. "It's personal in the way it reclaims biblical references that I grew up with. I wanted to create my own narrative by juxtaposing and grounding those references with everyday present realities, like grocery shopping or replacing your car battery," says Turner. In her prose poem read over a free-improv jam that quotes and fractures "Will The Circle Be Unbroken," she cites the lesser-known verse, "You remember songs of heaven / Which you sang with childish voice / Do you love the hymns they taught you / Or are songs of earth your choice?," the reference to secular music in a religious hymn further elaborating the overlap she's exploring. The record culminates with "Widening Venn Diagram," a love song, written after celebrating an anniversary in November 2018, the day Dylan's Blood on the Tracks outtakes, More Blood More Tracks (referenced in the song) came out. Carrying us out of the album's overlapping circle and into the world, Turner muses,"The song is born of a desire to continue to widen the Venn between my loved ones, and myself to see it widen in the world. To continue to be surprised and taken with the sublime in our everyday lives. The accompanying music video was born of eggs and friendships, the most magical-everyday entities we have."
My Body 'Tis of Thee compilation
"Lou Turner's intentional use of space – whether it's between notes, between passages, or even between breaths – is what sets the tone for her compositions. A truly contemplative and blissful listening experience."
— Mike Mannix (Centripetal Force Records)
An Ex-Pat Returns
"Lou Turner's songs are equally cool, inventive and emotionally resonant…" — Nashville Scene

"Lou Turner… sounds uncannily like a down-home Dory Previn on the band's superb 2017 release An Ex-Pat Returns." — Nashville Scene
Milkmemos
"Very cool, transportive field recordings provide a backdrop for artfully sweet and sometimes cathartic poetry."
— Ziona Riley
Styrofoam Winos
Winos at Home!
"Pecan Shoulders" music video premiere at We Own This Town